ZERO FOOTPRINT REPURPOSING:
SOUTH MELBOURNE HUB
COLLABORATORS
HIP V. HYPE
Perri Projects
Tandem Studio
March Studio
Industry Beans
Casa De Vinos
1280 Ceramics
Rude Boy Burger
Green Magazine
Christopher Tovo


---
BACKGROUND
Our first Zero Footprint Repurposing initiative took place throughout 2020/2021 in South Melbourne. Two developers working adjacent each other (HIP V. HYPE and Perri Projects) presented a unique opportunity for Revival to facilitate a host of fascinating circular-design initiatives.
Both the developers were working to slightly different timeframes and both developments had existing buildings onsite. When the existing building on the HvH site was demolished, we were able to facilitate a salvage mission that saw over 95% of the timber salvaged and wheeled directly into the existing building on the Perri site immediately next door (literally the remaining half of the city block) which was not scheduled for demolition for another 12 months.
Once we secured all the materials safely into the remaining existing building on the Perri site, we set up our Workshop and got busy channeling the materials into local construction projects. In the 12 months we occupied this space, we designed and built a whiskey bar 500 metres from the salvage site, a ceramics studio on Sydney road, and a burger bar in Brunswick West.
We also ran
a series of workshops for women
, where each participant manufactured their own coffee table — an exclusive design we prepared just for these workshops, which, of course, all took place on the site the materials were salvaged from using 100% materials salvaged materials from the site.
We still have a significant amount materials left which are now stored in our Collingwood Hub, and we're collaborating with Perri Projects and Tandem Studio (architects) to execute repurposing opportunities for the materials to return straight back into the site from where they came.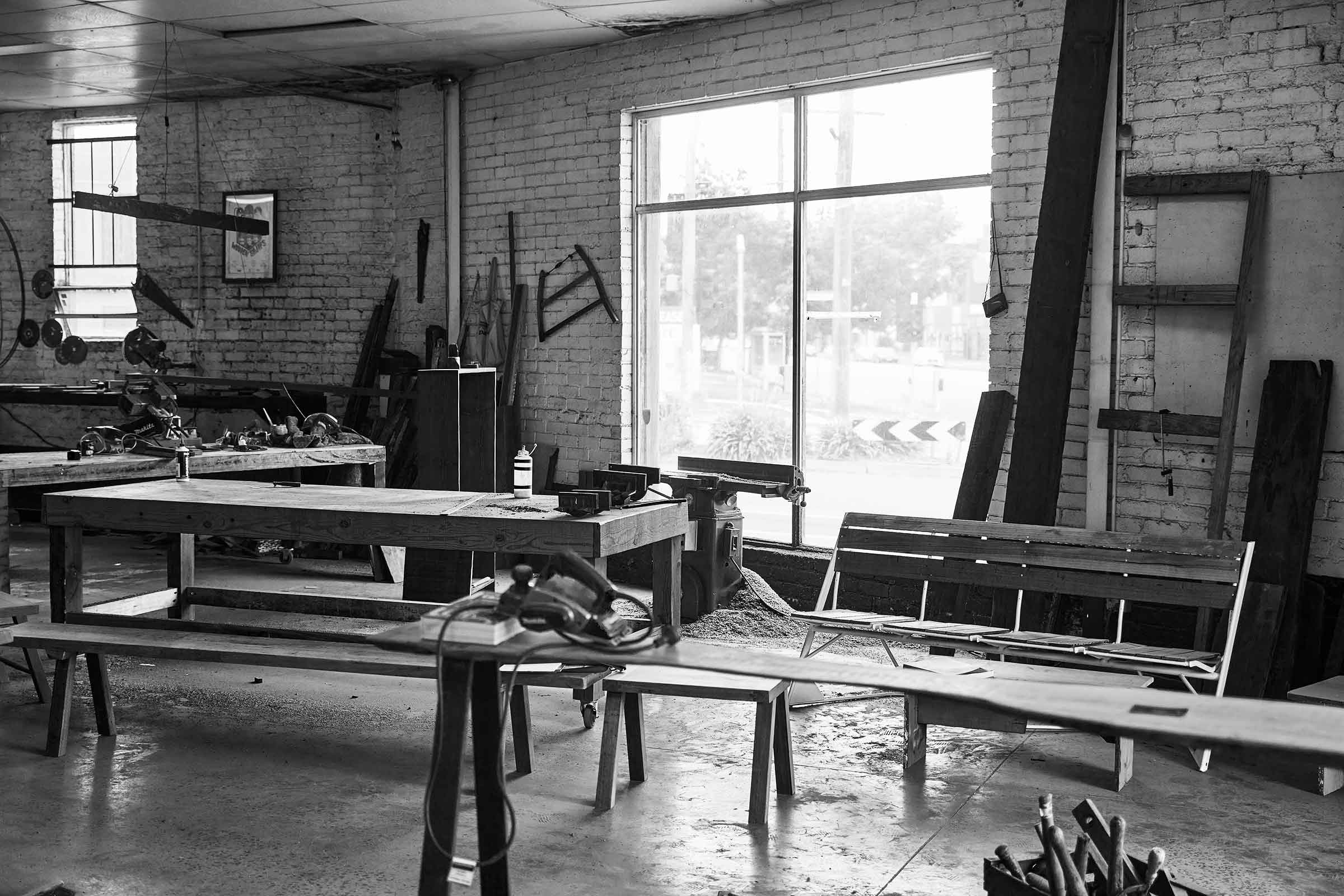 We salvaged over 2000 lineal metres of timber beams, a mixture of native Australian hardwoods and old-growth Douglas fir, with the total timber mass containing approximately 25 to 28 tonnes of sequestered carbon.
---
MORE HUBS

---
COLLINGWOOD HUB